Bracke Manufacturing, LLC Released New Catalog 2013 Vol 5
Bracke Manufacturing, LLC Released New Catalog 2013 Vol 5
Bracke Manufacturing is pleased to announce the publication of a new comprehensive RF & Microwave component catalog 2013 Volume 5.  Featuring more than 10,000 off the shelf items, the hundred and twenty-eight page catalog is a one-stop shopping resource for anyone who uses RF & Microwave components.
Product specifications and other application information are contained within the catalog. The catalog is also available in PDF format on the Bracke Manufacturing web site at www.brackemfg.com.  "An expanded section in our new catalog showcases our renowned line of over 550 coax adapters featuring 1.85mm, 2.4mm, 2.92mm, HN, MHV, SHV to name a few" said Patra Largent, Sales Manager.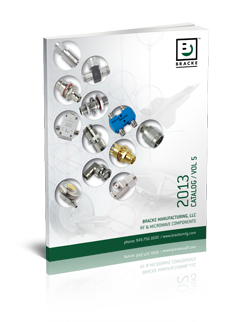 "We are also featuring our innovative radius right angle adapters which have outperformed the industry-standard cube design."
For further information, please contact Patra Largent at 949-756-1600 or patra@brackemfg.com.