New Bracke Manufacturing 2015 Catalog
Bracke Manufacturing, LLC Released New Catalog 2015 Volume 7
Bracke Manufacturing, LLC, Irvine California is pleased to announce the publication of a new comprehensive RF & Microwave component catalog 2015 Volume 7.  Featuring more than 11,000 off the shelf items, the one hundred and sixty-eight page catalog is a one-stop shopping resource for anyone who uses RF & Microwave components.
Product specifications and other application information are contained within the catalog. The catalog is also available in PDF format on the Bracke Manufacturing web site at www.brackemfg.com. "An expanded section in our new catalog showcases Rotary & Continuously Variable Bench Mount Attenuators covering the Frequency's DC to 18 GHz, Balanced Mixers covering the Frequency Range DC-8 GHz, Frequency Doublers covering the input Frequency Range of 1.5-13 GHz & output Frequency Range 3-26 GHz, Detectors up to 26.5 GHz, Limiters Frequency Range .5-18 GHz, High Power Directional Couplers Frequency Range .05-11 GHz, both manual and relay Switches up to 26.5 GHz, Surge Protectors with cartridge replacement DC-3 GHz, High Power Terminations up to 18 GHz with a variety of connector options, Equalizers Frequency Range 2-18 GHz. New connectors include Mini 75 Ohm SMB, 75 Ohm SMB, 75 Ohm SMC, SSMC & SMA Field Replaceable Connectors up to 26 GHz along with Contacts and Hermetic Seals. In addition over 756 new cable assemblies are showcased ranging from SSMB, SSMC, GR874, QMA, QN, Mini 75 Ohm SMB, 4.1/9.5 Din, F, 75 Ohm SMB and 75 Ohm BNC".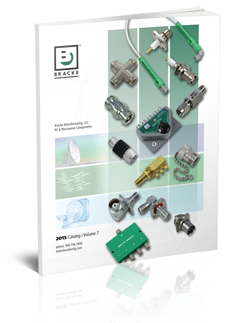 Take your time to browse our new 2015 Volume 7 catalog for your RF & Microwave needs. If there are items you are looking for that you cannot find please contact our Technical Department to discuss your current needs and desires. Bracke looks forward to doing business with your company.
For further information, please contact Patra Largent at 949-756-1600 or patra@brackemfg.com